Craggs Energy has seen a different kind of delivery this week when Commercial Manager, Danny Almond was gifted with a brand new fully electric Genesis GV60 company car to mark his 10-year anniversary with the company.
Having recently been promoted to Commercial Manager, Danny's role will now involve being out on the road visiting our partners and commercial customers so what better way to do that – in style and kind to the planet.
The latest addition of a full electric vehicle bolsters Craggs Energy's efforts to reach a net zero future. We are looking forward to converting the rest of our essential car fleet to fully electric by 2024. With charging points readily available at our head office in Cragg Vale, we are hoping that the new addition of Danny's car will inspire the rest of the team to move to an electric vehicle which we are able to facilitate through our Sal Ex scheme.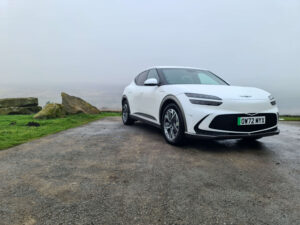 Danny comments:
"With Craggs Energy leading the way with renewable fuels, with the first inland HVO terminal – it was only right that we also reflect this across other aspects of the business including 100% electric vehicles. I am proud to lead the way within the organisation in the transition to electric cars and hope that this inspires the rest of the team to make the change."
The Genesis GV60 won the best electric SUV in 2023 and will support Danny in significantly reduce his carbon footprint.
Craggs Energy supply residential and commercial fuels across Yorkshire and Lancashire including: HVO, a 100 per cent renewable drop-in replacement for diesel that reduces CO2e by up to ninety per cent. Their latest division supports the decarbonisation of homes, farms, and businesses by providing customers with the knowledge and advice on their journey to achieving carbon neutrality.